NYE 2009 was feeling fine this year with my new accessories.
This year I rokked BCBG Lornas in black on my feet. They were pretty good for dancing until about 3am, when dancing became slightly more impossible....though, I blame the champagne and shots more than the shoes.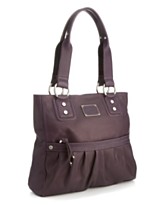 I also rokked my new B. Makowsky Athens tote in purple, which I fondly refer to as "the grape ape". This bag was perfect for carrying all my NYE goodies, camera, and a whole bottle of champagne, which we drank, in addition to the free champagne being handed out by the bar.
Cheers for the rokkin beats by DJs Hecubus, rfbutter, and PrettyTony, among others - thanks for bringing the jams. Cheers for free champage. Cheers for magic marker moustaches.
xoxo
2009: Feelin' Fine!