Suzy said I'd better get some
wellies
for skipping around Ireland for the raininess that we could encounter.
"Tis a grand idea!" says I.
So a little searching led me to the coolest rain boots I've ever seen. I purchased them immediately. They are on their way to my feet right now. Raindrops will be lucky to land and rokk out on these bad girls. ROKK!!!!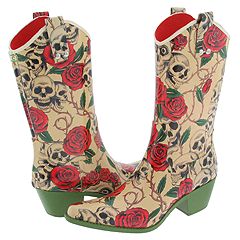 western rubber rain boots by
Jeffrey Campbell