I've been 'tagged' by my friend
Suzy
to do '5 things'. Suzy loves me so much that she wants MORE REETSY.
The rules are as follows:
1. someone tags you,
2. you post five things about yourself that you haven't already mentioned on your blog,
3. you tag people you'd like to know more about.
Five things about myself that I haven't mentioned on my blog?
1.) In 1984, I made up a
Pogo Ball
/jump rope routine to Madonna's "Lucky Star".
I was 7. I loved my Pogo Ball. It was yellow and black with tiger stripes. I've always followed Madonna. I won't say she makes great music, but she and I click.
2.) For several years as a kid, my bedroom was in the attic, and I used to imagine that Anne Frank and I would have been friends, based on this fact. I climbed a ladder to my "room", so if I had to pee at night, I had to climb down the ladder and run down the staircase to the first floor.
3.) I dig laundry chutes. Every house with a laundry area in the basement should have a laundry chute. My grandma's house had a gaint laundry chute. My cousins and siblings and I would jump down the laundry chute when we visited...until we got caught.
4.) Rhubarb is awesome. I will eat it raw, cooked, sweetened, unsweetened, warm, cold.
5.) I love The Peanuts. When I was a kid, I read Peanuts digest books without limit. At least 100. There were the smaller digest books, and the larger collections. I read as many as I could find. I know the Peanuts.
Linus
is my soul mate. I related to Sally and Peppermint Patty's math anxiety. I especially liked the old strips when Sally was still in a baby carriage, Charlie Brown had a HUGE head, and Snoopy looked like a puppy. There's so much more to them than the Christmas special.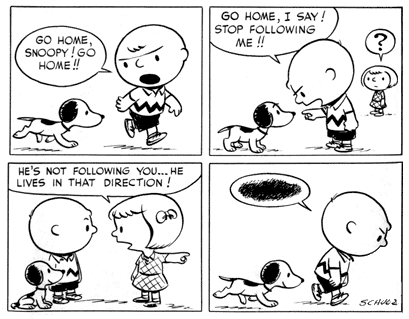 Now I have to pick people to tag? I'd like to see what they'd write. We'll see if they respond.
Professor Batty?
david foureyes?
gerg?